eBeauty.ca Coupon Code: 15% Discount This Weekend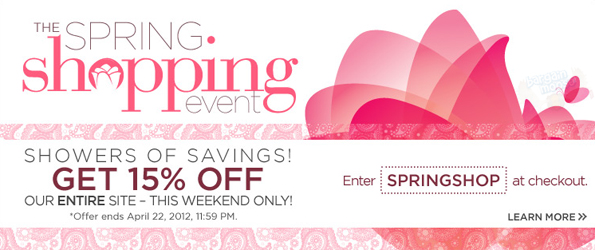 This weekend only at the eBeauty online boutique, you can get a 15% discount on anything on their site, when you use this new coupon code!
Click here to use the eBeauty coupon code online
Coupon Code: SPRINGSHOP
Discount: 15% off site-wide
Expires: 22nd April
It's not often that eBeauty.ca offer a percentage discount that can be used for any item on their site. I've only seen this happen once or twice over the last year, so I think it's an event worth blogging about. :)
This section - cheap thrills at $10 and under - could be worth a look. It's incredibly easy to throw some lovely items in your cart, such as this Jurlique rose love balm for $9 or these Nail Rock designer nail wraps for $10. Seriously, too easy!
If you are spending above a certain level, or buying certain brands, there are some free gifts with purchases. Check the free gifts here and make sure to add them to your cart if you are eligible.
You will get free shipping provided your order is $25 or more. Orders under that amount incur a $7.95 shipping charge, so it's definitely worth pushing your order up to the $25 level.
We've got this on our eBeauty promotional codes page, and you can find loads more cool coupon codes on our new coupon forums. :)