E.L.F.: 40% Off Minerals Makeup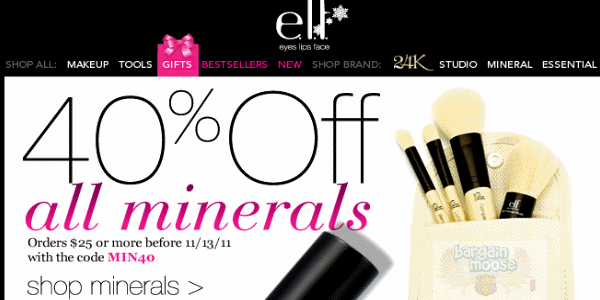 Save a bundle on pretty! E.L.F. has 40% off their entire line of Minerals cosmetics.
These are made without the use of preservatives or chemical dyes and are 100% mineral-based.
To get the discount you need to spend a minimum of $25 OR you could choose free shipping.
Coupon Code for 40% off: MIN40
Coupon Code for free shipping: SHIP25
Expires: 13th November, 2011
You can pick up a nice little bamboo brush set for $6.00 (Reg $10) – and really, don't we replace our brushes far too infrequently anyway? I also like their $1.80 (Reg $3.00) lip gloss. And check out the gorgeous red of this lipstick for $3.00 (Reg $5.00).