Dealivery Canada: Voucher For 73% Off Army Comb & Mirror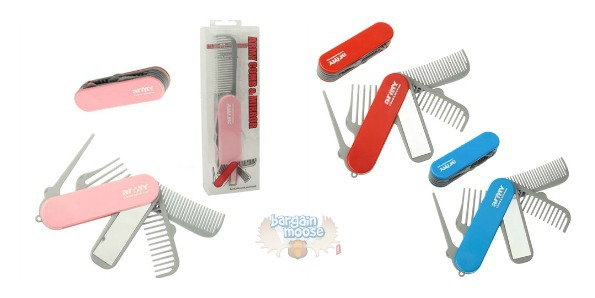 Dealivery Canada has vouchers for 73% off a compact army comb and mirror. Vouchers are valid for one year and you may buy as many as you wish for personal use and gifts. Taxes are included in order. This offer cannot be combined with any others and is valid for shipping in Canada only. Offer expires on October 8th 2012.
This is pretty cool, kind of like the swiss army knife for the civilized jungle. It comes in three different colours, pink, blue and red to be chosen at time of purchase and four different hair tools, with a mirror. The hair tools include different combs and picks and it all folds up neatly in a little case to hide in your purse or pocket.
I think this is a great idea, especially for those on-the-go women that already have enough things in their purses. I'm going to buy several for stocking stuffers this year, since I'm always on the lookout for those.
Shipping: $4.95 per item – allow 2 – 4 weeks for delivery.
(Expiry: 8th October 2012)