Canadian Freebies: Free Sample Of Emergen-C Multi Vitamins!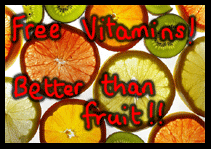 This is a freebie available to those of us in Canada and the US. Emergen-C.com are offering some free testers of their multi-vitamin products. When you click through to their website, just click the free samples button towards the top right. It doesn't say exactly what product they will send a free trial of, but they sell kids multi-vitamin products, or plain vitamin C supplements.
I've never tried these before, have you?
I don't usually take any vitamins or supplements, but the last time I was at the doctor, they suggested I take a few different things… maybe I'm just getting old!!
Thank you for the picture sediama!