Free Shipping on $50 + Free Jumbo Body Wash on $65 @ The Body Shop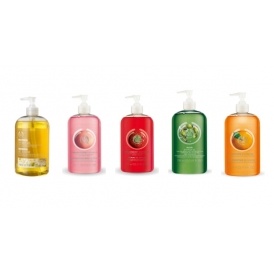 The Body Shop has a few great promotions on right now! We told you about the buy 3, get 3 free or buy 2, get 1 free promo last week but, this weekend, they're also offering free shipping on orders of $50 or more and a free jumbo shower gel on $65. Whew!
Tea tree oil is great for blemishes and The Body Shop has some for $12.
Have you ever tried their Peppermint Cooling Foot Lotion? It's perfect for tired feet or just in the summer as a refreshing treat. The big 250 mL bottle is $17.
I have long, thick, dry hair and Argan oil is a fantastic remedy; providing moisture and smoothness. It's also great for skin! The Body Shop has a decent-sized bottle of Wild Argan Oil for $20.
When I added these 3 items to my cart, the tea tree oil was discounted to $0 but go big or go home, right? I'll pick out another one of favourites - probably the $28 Vitamin C Skin Boost - and then choose two more products for free!
Then I went to pick my free jumbo shower gel as my total was $70. I'm going with the Pink Grapefruit because it smells yummy and free stuff smells even better! AND free shipping is applied as my order is over $50. What a steal.
This awesome deal is only valid through this weekend and some things are already selling out so try to get your faves while you can.
(Expires: 28th February 2016