Bargainmoose Contest: Win a $250 Gift Card For Druide.ca, the Natural Skincare Store! (EXPIRED)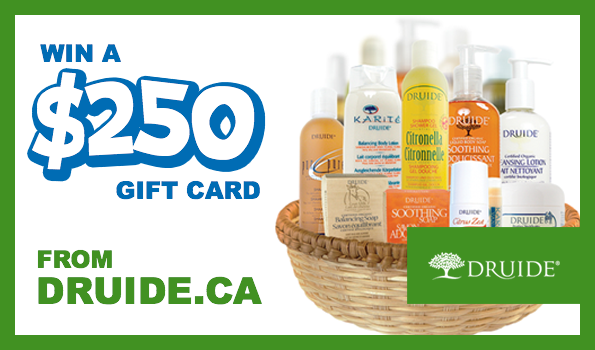 *** Contest now closed, winner was Bargainmoose Jenn! ***
The lovely folks @ Druide.ca, the eco-friendly skincare company, are offering one Bargainmooser a fantastic prize in this week's contest. It's a $250 gift card to spend on their site – on any of the fantastic range of natural products in their boutique.
If you happen to be spending any money on a purchase there this month, you might also be interested to hear about one of their current Druide coupon codes:
Click here to use the Druide.ca promo code online now
Promo code: ColdJanuary
Discount: Free Hand Cream with orders of $45+
Expires: 31st January 2014
The freebie with purchase is this dry skin hand cream from Druide, worth $6.95, and you will get the cream free with any order of $45 or more. In addition to the above GWP, there is currently 20% off select hair styling products, which might be a good deal to stack with the above. If you want to bump your order up to $60 or more, you would also get free shipping to your home. From Druide, all products are made in Canada (Montreal, Pointe-Claire, QC) and they are a pioneer in Certified Organic Body Care Products and the first North American company to be certified by ECOCERT.
Personally, I am hearing more and more stories about people having severe reactions to many of the synthetic contents of some mainstream brands, and many people turning to companies like Druide. A friend of mine used some mainstream baby lotion on her very young baby, only to find the baby turning bright red from head to toe, with a terrible rash. Since then, she has only ever been able to use lotions and potions with all-natural products. Druide items could be perfect for her and baby!
Now, on to the contest! If you might be interested in throwing your name into the hat to win the $250 gift card to spend at the Druide boutique, check out below.
How to enter the Druide contest:
Have a browse of all the products on Druide's online store. If you won the $250 gift card, you could choose quite a few to purchase. Name one product in particular that you think would be useful to you, and tell us why in the comments below.
Want some bonus contest entries?
Leave a link to this Druide contest on Twitter, ensure you include @bargainmoose in the tweet.
Pin this contest on your Pinterest boards, and follow us there.
Post a link to this contest on your Facebook wall and share with your friends, make sure you like Bargainmoose.
Contest rules:
Canadian entrants only. One type of contest entry per household. Ends 29th January 2014, 11.59PM EST. No purchase necessary. Odds of winning depend on the number of eligible entries received. Duplicate, incomplete or illegible entries will be disqualified. Contest subject to change at admin's discretion.