Bargainmoose Contest: Win 1 of 4 Prizes from Oxygen Plus! (Total Value $441+) (EXPIRED)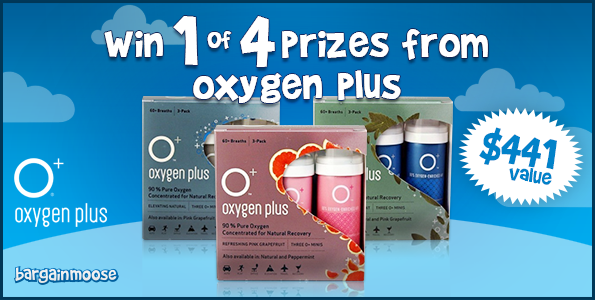 *** Contest now closed, winners were Sandra, Cindy, Sebastien & Sophia ***
Is it going to be a late night tonight or will you be getting up early for a long run on your day off? Either way, did you know that you can boost your energy, clear your mind and alleviate the effects of exercise or gluttony with oxygen? Oxygen Plus are these cool recreational oxygen canisters that really give you a lift and we have four prizes from Oxygen Plus Canada to give away to you right now!
The first prize worth $39.99, will elevate you to the next level with the O+ Elevate pack. It comes with your starter shell and two canisters.
The second prize is worth $74.98 and includes the O+ Elevate pack plus three extra refills of the peppermint flavour. I can just imagine the cool sensation these ones will provide!
The third prize is the O+ Mini Mixer with a retail value of $86.97. In it, you'll get three 3-packs of mini canisters, which are great to take on the go with you on runs, airplanes or just in your pocket. For days you don't feel like a flavour, the natural is perfect, or amp it up with peppermint or pink grapefruit.
Finally, our grand prize is worth a whopping $239.99 and will get you through your next marathon with ease. It comes with 24 canisters of O+ Skinni Canadian Sport. You can hoard these all to yourself, or give them to friends to try. They could make great stocking stuffers for friends!
If you are looking at the site and don't want to wait to get something, you can take advantage of a fantastic exclusive promo code for 20% off your order until the end of September. Use O+MOOSE to get your discount.
How to win one of these prizes?
Tell us the reason you need oxygen on the go! Is it to help cure those massive hangovers or to boost your performance at the gym? Leave your comment below.
Get bonus contest entries!
Rules:
Canadian entrants only
One entry per household
Ends 13th September 2014
Rules subject to change at admin's discretion