Back-to-Basics Make-Up Tips, An Exclusive Offer and Free Shipping @ Bobbi Brown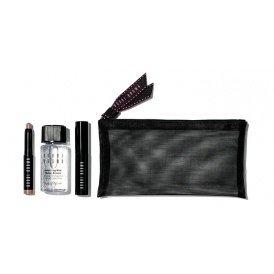 Feel like getting back to basics with a simple daily make-up routine in a pretty fresh palette for spring? I am! Read on for six back-to-basic make-up tips and an amazing offer from Bobbi Brown Cosmetics.
It's so easy to fall into a winter make-up rut, we're less likely to leave the house and more likely to be so bundled up that taking time with make-up in the morning seems a waste of time. I also favour darker, deeper shades in winter but spring has sprung and now I'm craving a fresh, paired back, natural look.
Here are six simple steps you can follow to get back to basics with your daily routine and freshen up your face for spring:
1. Cleanse and Moisturize—always the first and most important step! Make sure to allow enough time for your moisturizer to really absorb into the skin before moving on. Use a moisturizer that doubles as a sunscreen every single day!
2. Conceal and Correct—tackle any dark shadows and imperfections, such as the area below the eyes. Use a brightening corrector just a shade lighter than your normal skin tone.
3. Foundation—the right shade is so important here so shop carefully and don't over do it! Start in the centre of your face and blend outward for the most natural coverage.

4. Powder, Bronzer and Blush—use a small amount of powder in your skin tone to set areas such as your t-zone and under eyes. Now that your base is in place, use bronzing powder to add dimension to areas where the sun would hit your face. Add a pop of colour to cheeks for a bright, youthful glow.
5. Brows, Eyes and Lashes—shape and fill in brows as needed and apply your favourite shadow combo to your lids. For a natural daytime look, keep it simple and stick to neutral colours. Line the upper lids and finish with a generous helping of mascara. See below for details on how to score an amazing Ready Set Nude Eye Set for free, exclusive to Bargainmoose readers.
6. Lips—for the easiest lip, swipe on a tinted gloss in a clear or lightly tinted shade. For something a little more substantial, try a nude lip using a lipstick in a colour just a shade or two brighter than your natural lip.

Bobbi Brown Cosmetics is giving Bargainmoose readers a fantastic exclusive offer starting today—20% off your entire order, free shipping with no minimum and a gorgeous free Ready Set Nude Eye Set with any order of $100 or more!

What are your favourite spring make-up tips? Do you switch up your look each season?

(Offer valid 4/11-4/17)