22-Piece Make-Up Brush Set Just $18 & Free Shipping @ RoseGal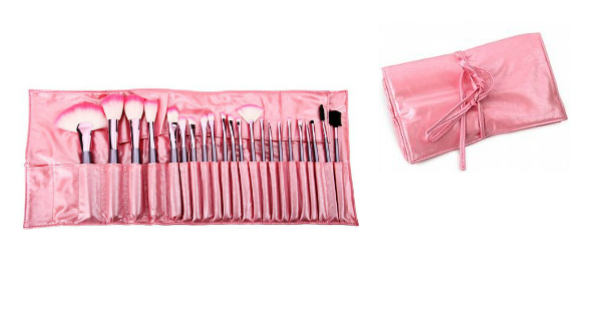 Have you ever seen that infograph that outlines how long you should keep various cosmetics and toiletries? It's very interesting to see the purported shelf life of certain things. I mention this because it immediately came to mind when I saw this great deal from RoseGal on their High End Make-Up Brush Set because I still use make-up brushes my mother gave me... when I was little. And they were hand-me-downs, not new. So needless to say, I've probably breached all kinds of rules, but I do clean them, I promise! The China-based online retailer, RoseGal, sells inexpensive clothing and accessories and they ship to Canada free of charge. They have this lovely set of 22 make-up brushes for $20.26 but new customers will pay just $18!
This 22-piece set contains everything you'll need to do make your face even more beautiful: contouring brushes, powder brush, eye shadow and crease brushes, eyeliner brush, eye lash and eye brow combs and a ton of other goodies. It comes in a pretty pink roll-up case that ties securely shut.
Be sure you set your currency to CAD in the upper right-hand corner of your screen when you arrive at RoseGal.com. Once you've done that, you'll see the price of this brush set change to $20.26, which is a great deal in its own right. But, if you've never shopped with RoseGal before, you're automatically issued a savings promo code for 10% off your purchase when you sign up as a new customer! After creating your account, you'll see that you have one coupon. Simply copy the coupon code and paste it when you're checking out and your total will drop to just $18.23. That's it! No tax, no shipping! Now, there's always a chance with international purchases that you'll be levied a customs charge upon delivery in Canada but I believe the value of this set would be under the threshold.
There's not a ton of information about the brushes' composition or materials apart from the declaration that they are soft, environmentally friendly and - most importantly - not poisonous! There is only one review but the customer seems very happy with her purchase.
Bought one for my daughter and one for myself, they are awesome, the brushes are very soft and very easy to work with, love the kit
What about you, dear Mooser? Could your vanity use a makeover?
(Expires: Unknown)