The Source Canada: Free Speaker with Samsung Galaxy Tab 4 Purchase ($100 Value)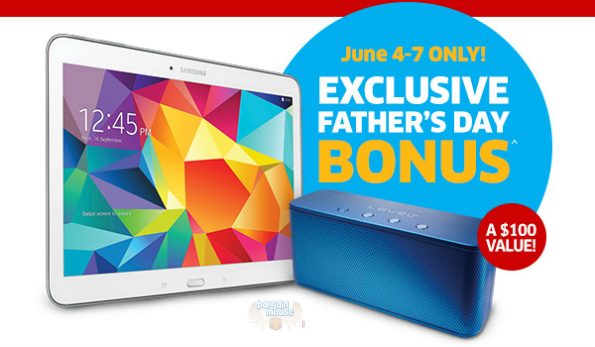 The Source Canada is giving away a free Samsung Bluetooth speaker valued at $100 when you purchase the Samsung Galaxy Tab 4 10.1" tablet for $269.99.
First, I price compared the price of this tablet with other online retailers. The speaker would not exactly be 'free' if they had built the price of it into the tablet's price. However, I found everything on the level. This same tablet retails for:
$269.96 @ Staples Canada
$269.99 @ Best Buy Canada
$268 @ Walmart Canada
I also found it over $300 at Newegg.ca but that is through a secondary seller: I do not think it counts. The Source's price is pretty much the same as any other retailer, thus the free speaker is indeed a nice bonus.
You are purchasing the white model. Your new tablet comes with a 1.2GHz quad-core processor and 16GB of memory. That memory can be expanded with a 32GB microSD card inserted into the microSD slot on the tablet. That would give you a total of 48GB of memory. This 10.1" tablet runs Android 4.4 KitKat, one of the newest android operating systems. The reviews rave on this tablet no matter where I look. One reviewer said:
for what this tablet offers at the going price, it beats out the competition. The battery life is great, and the performance keeps up with some demanding apps.
Other reviewers say that it is great for kids (has a kid mode) and the screen size is much better than the 7", which they found a bit small. Other reviewers praise the speed, the crisp-clear screen, and the ability to expand memory. Another reviewer says:
I was fortunate enough to get this table to while on sale but would be willing to pay full price anyway. The display is clear and crisp, great battery life, extremely fast and feature packed. I highly recommend this tablet to anyone as it is kid friendly as well.
Now, this deal is great but they really do not tell you anything about the Samsung Bluetooth Speaker you are getting for free, which is a shame. I tried to photo match by browsing websites, but I just could not figure out which speaker this is. If you recognise the free Samsung speaker being offered, please drop us a line.
Receive free shipping on orders of $25 or more.
(Expiry: 7th June 2015)