The Source: Apple iPod Nano 7th Gen 16GB Was $150 | Now $130 & Free Shipping (EXPIRED)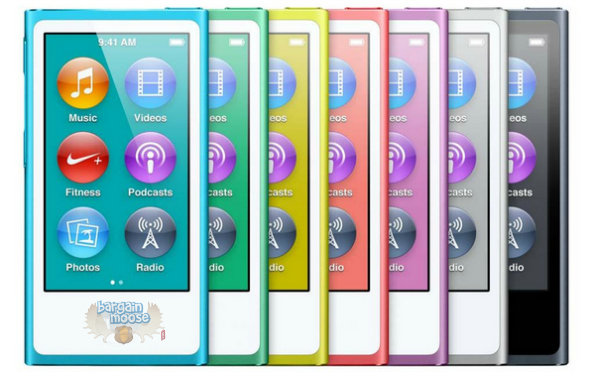 The Source Canada has a sweet one-day only deal on Apple iPod Nano 7th Generation 16GB. Originally $149.99, the iPod 7th gen is now on sale for $129.99 with free shipping.
I price compared the iPod Nano 16GB (7th gen) with other websites. While Future Shop comes close, The Source still has the best deal. Here is what other retailers are selling the iPod Nano for:
$139.99 @ Future Shop Canada
$149 @ Chapters Indigo Canada
$149 @ Staples Canada
$149 @ Apple Canada
$149.99 @ Best Buy Canada
As you can see, most every other retailer is selling the iPod Nano for its original retail price. Future Shop does have the Nano for $10 off, but The Source's $20 off deal is better!
I do not think the iPod Nano needs any introduction. It is the most recognizable MP3 player around the world. The reviews are overwhelmingly positive and the iPod comes backed by Apple's well-known one-year warranty and excellent service policy. I have owned many Apple electronics before and the company has been amazing at fixing each one of them. Here is just a sample from one of the reviews:
I love everything about this iPod, the battery lasts for a long time, the sound is great, and it is so light you hardly know your carrying it. The screen gives you everything you need to know, whether you are listening to music or a book.
This sale includes all colour reiterations of the iPod. Choose from blue, silver, purple, space grey, yellow, green, and pink. I like the purple and the green first. However, the yellow would match my car better so I might end up buying that instead. It is really a great little device and super lightweight. I have a problem with storing all my music on my phone - it just will not all fit. Between apps, pictures, and more - 14GB of music does not fit on a 16GB player with all that other stuff. I totally wanted to purchase the iPod Classic, but it is no longer made. I either have to fork over the extra money for the Touch, or use a dedicated Nano for all my music and have my apps, pictures, and life on my phone.
This offer expires TODAY - so buy soon!
(Expiry: 8th March 2015)