TechGenie Discount Code: Exclusive 25% Off All Products (AntiVirus and PC Optimizer)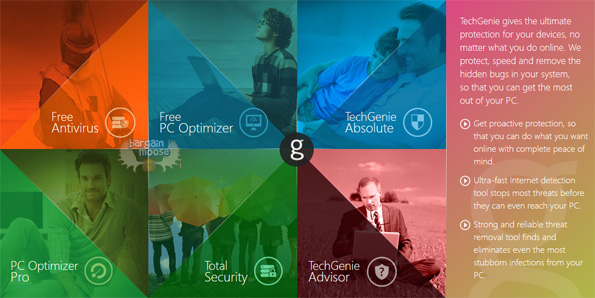 Since your PC can never have enough protection and can never be fast enough, be sure to use our brand new Bargainmoose exclusive to secure 25% on all of TechGenie's software!
Protect and speed up your PC @ TechGenie.com now
Coupon Code: TGMoose25
Discount: 25% off
Expiry: Never
Depending on what you need most, TechGenie has the following three products available for purchase:
Designed to do exactly what its name advertises, the PC Optimizer Pro scans, fixes and serves to restore PCs to their original speediness by searching for duplicate files, defragging and even going so far as to optimize your internet. The Total Security and Absolute softwares, on the other hand, are designed to protect PCs from pesky viruses, spyware, malware etc.
Personally, I'll most probably be taking advantage of this exclusive TechGenie discount code to save on the Absolute software because it optimizes and protects PCs all at the same time. Plus, it's $10 cheaper to simply get the Absolute one instead of the other products separately.
If you're on the fence about committing to TechGenie, then you can also try smaller versions of the products above for absolutely free with their AntiVirus and PC Optimizer softwares.