Sony Portable Wireless Speaker System Was $100 Now Only $53 + Shipping @ MyOutletStore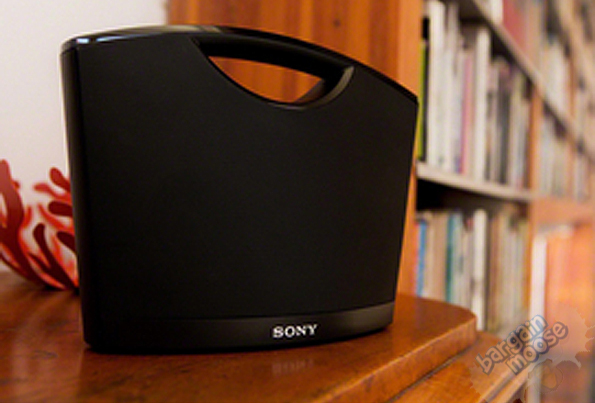 We've posted a couple of deals from MyOutletStore in the last week, they're the fairly newly launched website in the Cardswap family and they sell a range of items, from fashion to electronics. I was browsing round this morning, doing a bit of price comparing, and I came across the deal on this Sony SRSBTM8B Portable Wireless Speaker System. Originally $99.99, My Outlet Store is offering this Sony speaker for only $59 plus you can save an extra 10% on this with a coupon code bringing it down to only $53.10 plus shipping.
Once you've got the Sony speaker in your shopping cart and you are going through checkout, use the MOutletStore coupon code CardSwap to get an extra 10% off the marked price
Description & Features
NFC compatible portable wireless speaker; connect via bluetooth
Device uses 4 'AA' batteries with approx. 20 hours playback potential
Output: 2 W x 2
Dimensions: W245mm x H185mm x D88mm
It's a very stylish looking Sony device, I love the look of it!
Price Comparing
I've done an online price comparison for the Sony SRSBTM8B speaker system. I believe that the price at My Outlet Store is really excellent. The cheapest I can see this model for elsewhere is $79 at Walmart.ca, with many other stores having it at the $99 mark.
When I was price comparing, I noticed that a number of stores were selling a refurbished version of this for around the same price. Obviously you'd be better off with the brand new model rather than the refurbished one… but I wanted to mention it in case you are also price comparing and you see those similar prices – just check the status, whether it is new or a refurb.
Canadian Shipping
As you're paying the flat-rate $4.95 shipping anyway (which is pretty reasonable), have a browse round and see if there's anything else you want to pop in your cart. However, when I had two of the above Sony speakers in my cart, shipping reduced to zero – they may have a minimum spend threshold for free shipping.  I think it is $75 – you might be interested in topping your order up to that level. It doesn't explicitly state the free shipping threshold anywhere on site, but it works in the shopping cart.
(Expiry unknown)