Philips In Sight Wireless Home Monitor Was $120 | Now only $50 & Free Shipping @ Best Buy Canada (EXPIRED)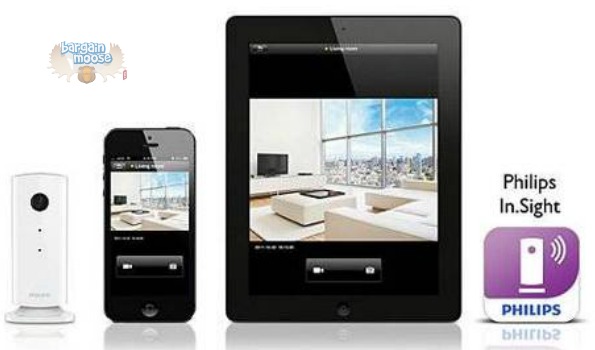 Keep your home protected with the Philips In Sight Wireless Home Monitor. This home camera was $119.99, but is now only $49.99. You will also qualify for free shipping, as this item is more than the $25 minimum.
While we are all happy to throw open our doors for the nice weather, but you do have to protect yourself. During the summertime, domestic break-ins increase. While thieves are not always smart, it is much easier to break into your home when the ground is not covered in ice. Protect your family and your home with the Philips In Sight Wireless Home Monitor.
This monitor is Wi-Fi enabled and allows you to check on your camera from an iPhone or iPad whether you are home or on vacation.  From reading around the internet, it seems the app for this camera is only currently available at the iTunes store. Included with your camera is a wall mount so you can set this little camera up where ever in your home. I would recommend picking one of your entryways or monitoring your garage entrance. This handy little camera will send you push notifications when noise or motion is detected. Recordings from your camera can be placed automatically in a Dropbox account. This camera also has a warranty for a year on parts.
The Source has a comparable camera you could pick up, the ION Two Way Monitoring Camera for $149.99. Over at Walmart.ca, the Summer Infant Baby Link Wi-Fi Internet Viewing Camera has similar capabilities and is on clearance for $150. There is also a second party seller on Amazon Canada who has this exact camera on sale for $98.09, but you would also pay shipping.
There are not many reviews on this camera. It simply is not being sold many places in Canada. I went over the border to look at American reviews, and this camera sits at a solid three out of five stars across the border.  Over there some people really like the ease of use the app provides for this camera, but others report having connectivity issues. For this fantastic price, you will have to make your own call.
This is a great price for a Wi-Fi enabled camera that connects to your iPhone. Most cameras that connect to apps generally run around $100 from what I have seen with my research. You could also use this as a baby monitor, or in my case toddler trouble monitor. This could also be used as a spy cam if you are worried about something happening in your home with any service providers that enter your home. A friend of mine set one of these up and caught a housekeeper stealing from her. She now has a reliable housekeeper she loves replacing the original. Whatever you use this camera for, this is a great deal that is only good for today. You may want to grab yours now!
(Expiry: 1st June 2015)