Philips 7" LCD Photo Frame Device $49.99 @ Costco!
It's my ultimate aim in life to own every conceivable gadget in the world... from funky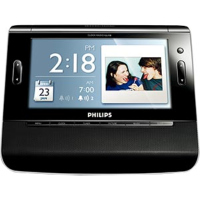 Sadly, the shipping fee is $10, but even so, I think it's still a pretty good deal for the whole lot. It seems to have everything! While it's a 7" digital frame, it's also a clock radio.
One of the sentences in the description says "Wake up with the photo of your loved ones." Better than waking up with your loved ones!?