Parents Canada: $12 for 2 Sets of Cute and Kid Friendly Cartoon Ear Buds (Save 82%)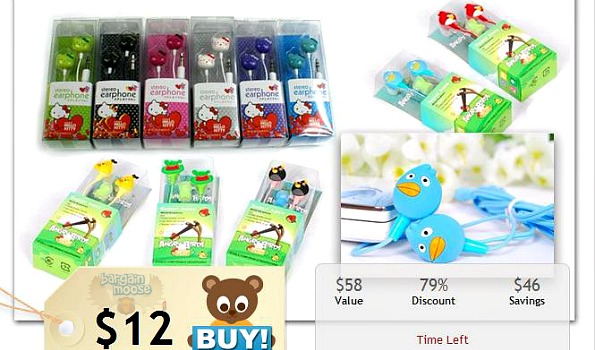 Parents Canada has a great deal on right now for the kiddos, that is both fun and functional. They have a deal for 2 sets of cartoon earbuds for $12 (82% off), courtesy of Vivid Light Discoveries.
Here are the details for this deal:
May purchase up to 3 vouchers for self use and 3 as gifts
Taxes and Shipping not included ($7.95)
Vouchers expires in 6 months
10 Styles to choose from
Specifically designed to fit inside the ear reducing ambient noise while providing outstanding bass and treble clarity
Compatible with all audio devices with a standard 3.5mm headphones socket
This is a great deal for someone with more than one child because they can pick which unique fun pair they want and there will be no fights over whose is whose.  They can choose from pink Hello Kitty, Angry Birds or 8 other fun designs.
To Redeem: Please visit VividLight and click on 'Your Deal Voucher' enter in your Sweet Deal redemption code provided in your voucher. Please wait 24 hours after the deal expires to redeem.
(Expiry: 16th July 2012)