Olympus Coupon Code: 25% off Reconditioned Tech!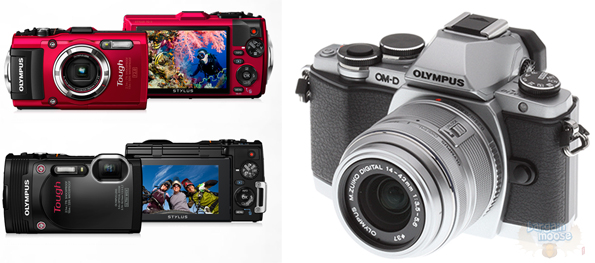 Ever shopped online at the Olympus store? If not, it's time to check out a few deals. They've just released a coupon code which gets you a 25% discount on items in the Olympus outlet – this is their store for reconditioned items. Here are the details:
Click here to use the Olympus coupon code online now
Coupon Code: SPRING
Discount: 25% off
Expires: 27th March 2015
Everything in the Olympus outlet store has been fully reconditioned and comes with a 90 day warranty, and a 30 day money back guarantee. This is a pretty good policy for such reconditioned items.
Tech Deals
There are all sorts of tech items for sale in the outlet, everything from cameras to accessories and lenses.
TG-830 iHS RED Digital Camera was $279.99 now $119.99 - this is $307 to buy now @ CDW.ca, albeit in an alternate colour. It's also $290 new @ Tigerdirect – but this comparison just serves to show you the kind of bargain you are getting from Olympus.
TG-850 Black Digital Camera was $249.99 now $119.99 – to buy this item new online in Canada, you're looking at $240 @ Best Buy, $250 @ London Drugs, that kind of price range.
E-M10 Silver Body 14-42 IIR Black Digital Camera was $799.99 now $479.99 – this item is much more costly new in Canada, from $690 @ Costco, to $600 @ Henrys, to $700 @ Future Shop and Best Buy.
Shipping
Shipping is free on a $150 spend, but this appears to be the pre-discounted amount. For example, on the above TG-830 camera, it cost $159.99 before the Olympus coupon code so qualified for free shipping. The coupon code brought the item down to $119.99 but the free shipping still applied!
Customs, Duties, Taxes
I was recently communicating with Olympus as we haven't written about them here on Bargainmoose before (not the Getolympus site). I was checking out things like customs, duties, taxes, etc. Here's what they have on their help page:
For all orders placed in Canada, we must charge sales tax in all states where sales tax is applicable. There are no other taxes or brokerage fees charged once the item ships and enters Canada.
This is perfect! So even though your order will ship from the US, you just pay your taxes at checkout and then there are no other fees to worry about whatsoever.
Rewards Program
If you sign up for an account and signup for emails, they will give you 150 points on their reward program. If you add your birthdate, you'll get another 250 then. I did that and I was then shown the option to get a $2 gift card to take off the purchase - you might as well try this too! See here:

Exchange Rates
What's great about the above deals is that they are all in Canadian dollars. You're really making a steal on some items, as they're priced like for like with the items on the US storefront.
One of my early digital cameras was an Olympus. I bought it when I was living in Australia for a year. At that time, it was mega-expensive as it was a 12MP, and this was over 10 years ago. That was a very high pixel count at the time. It was an amazing digital camera for its time. In fact, it's still sitting here in my office drawer, but sadly unused now. I must pass it on to a family member who can make use of it!