NewEgg.ca: Up to $70 off Power Supplies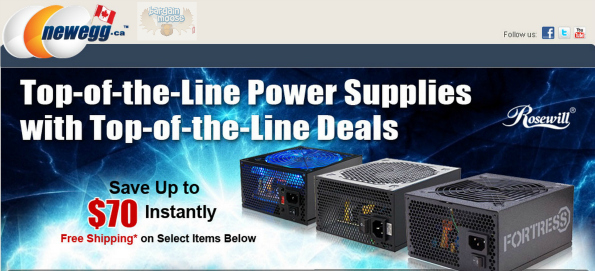 NewEgg Canada has a whole range of power supplies on sale: everything from the low-end value power supplies to the super high-end units.
They split this sale up into five categories: Value, Mainstream, Performance, Powerful and Enthusiast. Here is one from each category in the order they were just presented:
There are some really fantastic deals here for everyone. And when I say everyone, I mean everyone. I'm talking to you, housewife who came here looking for 5 Easy DIY Home Décor Ideas. I'm talking to you, senior citizen who came here looking for a coupon code for Chapters. I'm talking to you, 27-year-old commuter looking for some awesome free Android games. Everyone, you need a spare power supply!
They are easy to replace and when yours dies at 2:30 in the afternoon on a Sunday you will thank yourself for buying a spare. Now I know I said they are easy to replace but PLEASE, PLEASE get a qualified person to teach you the required skills to do it. It can be very dangerous to do this, so be careful! I don't want any angry letters from ghosts who blew themselves up when they bridged a capacitor's leads with a steak knife.
It's crazy how far power supplies have come since I started building PCs. The power supplies I have hanging up in my basement are all made of the same ugly grey metal and have the rainbow-coloured wires leading to the big white molex plugs. What? You only need to plug in two things? Too bad, you get 8 plugs no matter what you do! You want lights in your power supply?! Do a hardware hack and install them yourself!
Oh, it makes me so sad that some generations aren't going to experience what I did when I first got into computers.
(Expires: 12th October 2012, 11:59PM PT)