NewEgg.ca: Black November Sale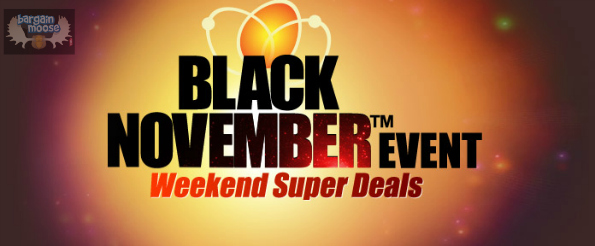 Nevermind Black Friday, NewEgg Canada has a whole month of Black Fridays with Black November!
There are four pages of deals here. These are a few of them:
Black Friday is coming early I guess. For those of you who don't know, Black Friday is the day after American Thanksgiving that supposedly starts Christmas shopping. I don't know about you but I've been Christmas shopping for weeks. Regardless, retailers "celebrate" this day by having a bunch of great sales! As I mentioned earlier, NewEgg has a whole week of "Black" sales with Black November.
I included a TV made by a company called Sceptre in my deals up there and I just wanted to mention something about the brand. They are not a big brand name so I don't know anything about them. I don't know their quality and I don't generally trust online comments about a company because people generally go on to complain, not to say how great something is. Anywho, I looked around just so I could give you a backgroud on them. They are a California based company and have been around since 1984. They started making CRT TVs and have evolved into what they are now. They make a lot of stuff but TVs seem to be their main product. Their TVs took 7 spots on the 10 ten best selling TVs on walmart.com. I don't know if that is due to the ever plummeting jobless numbers and crumbling economy but it's impressive, nonetheless.
(Expires: 11th November 2012)