NCIX.com: Microsoft All-in-One Media Keyboard Was $60 | Now $23 + $8 Shipping (EXPIRED)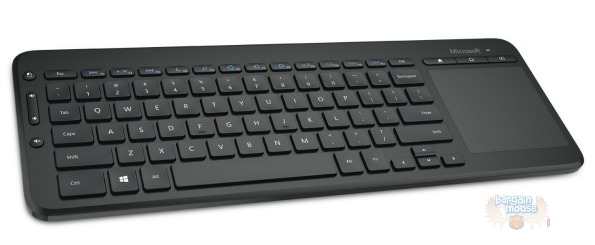 NCIX.com has an excellent deal on the Microsoft All-in-One Wireless Media Keyboard with Multi-Touch Trackpad. originally $59.99, the keyboard is on sale for $22.99 with $7.98 ground shipping.
Even though you have to pay for shipping for a grand total of $30.97, this deal still far exceeds the price at other retailers right now. I price compared at several other online stores so you could see how good this deal is at NCIX.com.
$39.99 @ Amazon Canada
$44.95 @ Microsoft Canada
$49.95 @ Walmart Canada
$49.99 @ Staples Canada
$49.99 @ Best Buy Canada
You can easily see that NCIX.com, even with shipping, beats Amazon Canada's price by nearly 25%. For anyone needing an all in one keyboard, this is an affordable option for Microsoft: an industry standard.
These all-in-one keyboards are becoming the standard keyboard sought out by computer users. The track pad on the right hand side mimics that of a laptop track pad - except with a larger surface area. Unlike most laptop trackpads, this pad where you can swipe, drag, zoom, and click. Essentially, it is multi-touch compatible.
The full size keys will put your fingers at ease. There are also customizable media hot keys for your favourite folders. Try linking to music, favourite movies, your browser, favourite porn site, and more. Access these sites at the touch of a button. The keyboard is made to be durable and stand up to everyday abuse.
There are many of these keyboards out there, and I have blogged about a few before. Most quality units tend to start at $50 and go up from there. These days you have to spend $20 on a regular keyboard, so getting an All-In-One keyboard for just $11 more is pretty sweet.
One reviewer said:
Bought two of them during a 50% off sale. Really worth it. I use one for my smart tv and the other for a computer hooked up to another tv.
Another reviewer mentioned that the large touch pad is nice, except that it fails to respond occasionally. This was a minor problem and he still gave the keyboard 4/5 stars with these final thoughts:
Overall, I'm quite pleased with this keyboard despite some of the quirks. I prefer it over the Logitech K400R. I would be comfortable using it every day. Plus, the texture of the plastic helps keep it clean and free of fingerprints.
When I switch over to a desktop (I have plans!), I will certainly use one of these keyboards with it.
(Expiry: 15th April 2015)