MyDomain Coupon Code: 50% Off All Hosting Plans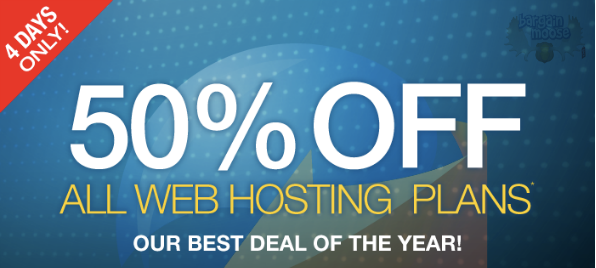 Starting a business? A blog? Want to set up a portfolio? You'll need a website from MyDomain.com
 Click here to get your hosting @ MyDomain.com now
Coupon Code: HOST50
Discount: 50% off hosting
Expiry: 29th May 2013, 2:59AM ET
MyDomain offers too many hosting options for me to list them all here but you can read all about them on their website. Most of their plans can be bought in multiple year increments and that is where you really save the money. 50% off a one year contract is not bad but when you start doubling or tripling your savings, it becomes significant.
I lot of people probably think that a website is something you need a professional to put together but it really isn't. There are tons of tools and tutorials out there that can help you make a great website. Now I'm not saying you're going to be pumping out amazing sites in a week but if you spend a bit of time working on it, you can make some very cool websites. Another common misconception is that you don't have a reason to have a website. You can set up a website as a resume, as a way for people to RSVP to a wedding, as a portfolio, or a place to put info about your home business. There are tons of awesome reasons to have a website!
Click here for more MyDomain Coupon Codes!
What are you going to do with your MyDomain.com website? Let us know in the comments below!