Lenovo 7 Days of Deals Contest With $1500 In Prizes (Day 1 of 7)! (CLOSED)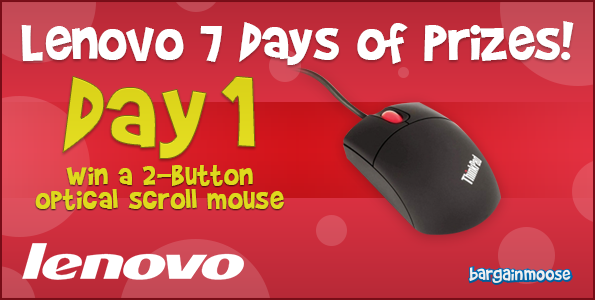 *** Contest now closed, winner was Mooser Sherry! ***
We've got an exciting contest for you this week. To celebrate Cyber Week, Lenovo is giving us seven days of deals, with a new prize each day. Today is the first day we will be giving away prizes, and each day the prizes are going to get larger and larger. Be sure to enter every day to increase your chances of winning some great Lenovo equipment!
I have to say, this house is full of Lenovo technology. My husband and I both have Thinkpads and I have a Yoga tablet. While that doesn't seem like a lot, these are three of the main pieces of technology we use, besides our phone and the family computer. I wanted a ThinkPad because I recently saw a video of how much abuse they stand up to. With three small kids around and me being pretty clumsy and always eating at my desk, this was very important to me. I did not want to take the chance of my laptop being fried because my tea got spilled into it.
Lenovo has some Cyber Week doorbusters going on, with Thinkpads being up to 40% off. The only thing I suggest is getting a processor higher than an i3, as I wish I had. My husband's laptop is only a few hundred dollars more expensive than mine, but runs quite a bit smoother. It is worth the extra money. And, with what you are saving right now, you can afford to splurge. You might also want to check out the coupon codes for Thinkpads on the Lenovo Bargainmoose page.
Our first prize this morning is the USB 2-button optical scroll mouse. This could make a great stocking stuffer for your techie friend, or even for yourself, as having an extra mouse is very important. I learned this lesson a few weeks ago, when during a very busy day at work, my mouse decided to stop working. I live in a small town and had to drive to get a new mouse when that time could have been better spent getting work done!
The mouse sells for $19.99, but you can have a chance to win it, thanks to Lenovo.
How to win this prize?
Tell me what other prizes you'd love to see from Lenovo this week! Leave a comment below.
Get bonus contest entries!
Rules:
Canadian entrants only
One entry per household
Ends 2nd December 2014
Rules subject to change at admin's discretion