Leap Frog Canada Coupon Code: Save 15% plus Free Shipping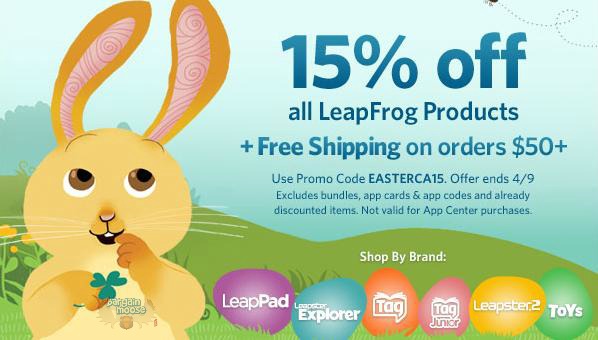 Leap Frog Canada has a great coupon code out right now until 9th April to celebrate Easter this year.  Save15% on all Leap Frog products plus get free shipping on all orders over $50.
Here are the details for this coupon:
Coupon Code: EASTERCA15
Discount: Save 15% and free shipping
Expiry: 9th April 2012
There is some fine print:
Excludes bundles, app cards, app codes and already discounted items.
I like that you can use this code on pretty much anything at Leap Frog Canada.  The free shipping over $50 is also a great little bonus.  For regular shipping you would be paying anywhere between $9.95 and $38.95, depending on how much your purchase weighs in at.  That in it is a great deal. Even though clearance items cannot be combined with this coupon code, they do have some good prices on some of the items for you to check out.
(First posted on the Leapfrog coupons section on our hot deals forums!)