Kodakgallery.ca: 1 Day ONLY June 17th 40% Off Coupon Code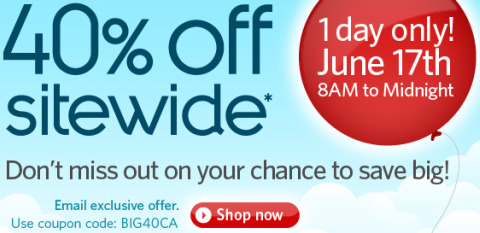 Kodakgallery.ca emailed me a coupon code valid for 1 DAY ONLY, June 17th 8am till Midnight. It is valid for everything on the site.
They have free pick-up at Best Buy and Future Shop stores which can save you money.
Discount: 40%
Coupon Code: BIG40CA
Valid: June 17, 2010
Here is the fine print:
*Offer valid on June 17th until midnight Pacific Time. Enter coupon code BIG40CA to receive 40% off your order. 40% off does not apply to shipping, handling or sales tax.
I haven't had the opportunity to try out their photo quality yet, however I should be checking it out on Friday when I pick up my pictures! Have you bought anything from Kodak? If so, how did you like it?