iPhone/iPad USB 32 GB Thumbdrive $40 + Free Shipping @ The Source.ca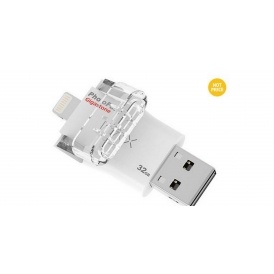 If you have an iPhone or iPad, you've probably noticed that you can't use memory cards the way you can on laptops and tablets. I am ecstatic to have found this product out in the market, as it has been sorely needed by Apple iPhone and iPad owners.
I'm thinking this would have come in handy when my daughter was at a Brett Kissel & Jordan McIntosh concert recently—she ran out of space on her iPhone. Brett had invited everyone to record and share the concert. Very cool! An iPhone owner could make good use of this device when they are at an event with a phone that has limited to no space. It allows you to quickly transfer your iPhone's current photos over to the USB storage device, then later transfer them onto your computer by connecting the Gigastone Photo Fast Max to the USB port on your PC.

Basically this handy device will free up your iPhone to take as many pics. as you want to! The Gigastone Photo Fast Max 32 GB is $20 off right now, selling for only $40 at TheSource.ca, and includes free shipping to your door. That's over 30% off! If you prefer a 64 GB Gigastone Photo Fast Max, it is on sale for $70, down from $100 - a $30 savings!
I am truly astounded at the specs on this amazing little device! It looks like a solution to so many issues that Apple users face on a regular day to day basis in terms of storage space. Here are just a few:

Compatible with both Windows OS and Macs. There is one USB 3.0 port and one Lightning connector and it's compatible with iPhone 5 / 5s / 5c / 6 / 6 Plus, iPod Touch 5, iPod Nano 7, iPad Mini / Mini 2/ Mini 3, iPad 4, iPad Air, and iPad Air 2.
Manage your contacts, calendar, photos, music, videos, and more
Download files from social networking sites like Facebook, Flickr, Instagram, YouTube, Google Drive, and Dropbox
Data will be protected from unauthorized access with secure file encryption and the ability to lock your drive using a four digit password or your fingerprint.
No Internet connectivity needed
Backup and restore your device with one click.
The integrated media player allows you to listen to any song and watch any video file (most video file formats supported) directly from the iFlashDrive.
By the way, if you're constantly running out of space on your iPhone, you should check out this link. My daughter and I have both used this little trick, it deletes no user data on your phone and clears the cache without any tricky or complicated steps involved. It's as simple as renting a movie larger than the space you have left. Please read the instructions carefully, but it really is easy to do!

(Deal expiry: May 4, 2016)