GoDaddy: Best Offer Ever - 33 % Off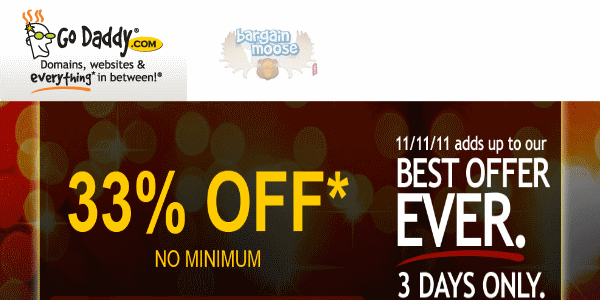 People are asking me all the time how to go about getting a domain and how much it costs, since I've had my own for years, and always talk about the sense of control and satisfaction it gives me. I'll often point them in the direction of GoDaddy since it's good at guiding people new to domain registration, as well as at consistently having low prices. Now, GoDaddy is offering 33% off, making this its biggest discount I've seen in a long while.
As an example, I could pick up "angelarocks.ca" for $13.22 per year, or "angelarocks.info" for a mere $2.03. Unfortunately, "angelarocks.com" is already taken, but I could get "angelarockson.com" for $12.20 per year.
This offer is:
Not applicable to ICANN fees, taxes, shipping and handling, sale priced domains and transfers, bulk domains and transfers, premium domains, Sunrise/Landrush domain registrations and pre-registrations, memberships or maintenance plans, additional disk space and bandwidth renewals, additional email addresses, additional AdSpace advertising funds, Managed Hosting, custom page layouts, brand identity services, Go Daddy branded merchandise or gift cards.
It looks like this offer expires Sunday, so don't wait too long to take advantage of it.