Go Daddy: 20% Off 1, 25% Off 2, 30% Off 3 Domains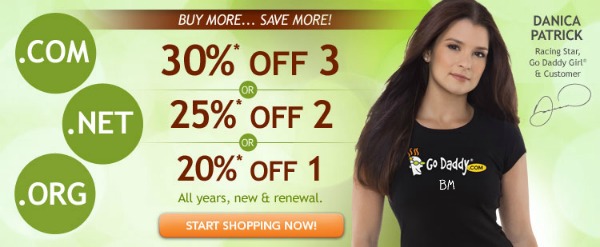 When shopping at GoDaddy for .COM, .NET and .ORG domains: get 30% off 3, 25% off 2, or 20% off 1! It is the essential the more you buy the more you save sale.
Discount: 30% off 3, 25% off 2, 20% off 1
Coupon Code: gdz748e
Expires: 7th, August 2011
This kind of deal is helpful if you are establishing a website and want a monopoly on all the domains associated with it. For example: say I wanted to establish a website called bargainsrus.com. To make sure no one copies my website I will buy up the .net and .org versions of it too. This also helps if someone forgets I am a .com and types in .net instead, I can have it auto-redirect to my website.