Futureshop Canada: Fan Appreciation Sale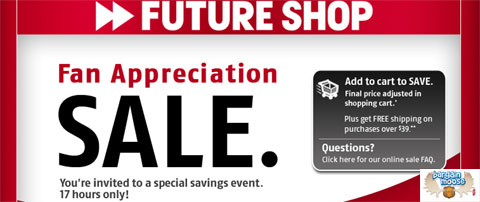 Starting today, Futureshop Canada is holding a fan appreciation sale. It's a special savings event, online only, which last for 17 hours.
The fan appreciation sale is only on for a short time, from Sunday 25th April to Monday 26th April 2010, 10am EST. If there was something in particular you were interested in, add it to your shopping cart to see if it has a discounted price.
Highlights:
(P.S. As I typed this out, the sale didn't seem to have started yet, but should be soon!)