FutureShop Canada 3 Days Of Web Deals (19-21 Oct)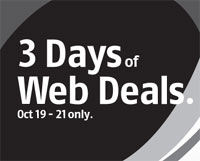 From the 19th of October to the 21st, FutureShop Canada is having 3 days of web deals!
As is common with the Futureshop days of deals, there is a wide range of products available, from TVs to memory cards. Here are a couple of items that stand out:
Hope you manage to get some bargains :) The prices aren't updated yet, but should be tomorrow.