Future Shop & Best Buy Canada: Save On K Cups & T Discs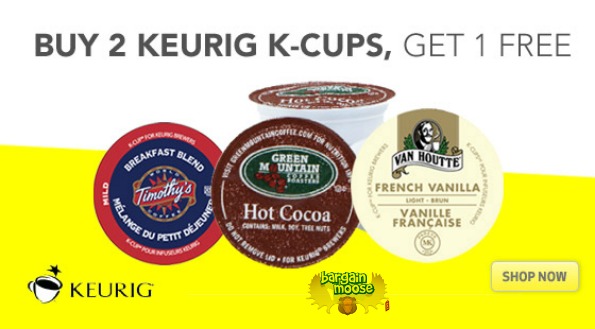 Love your Keruig or Tassimo Brewer? Then it's time to stock up on K Cups and T Discs. All Kerurig K Cups and Tassimo T Discs are buy one, get one half off at Future Shop Canada. At Best Buy, when you buy 2 Keurig K Cups, you'll get one free.
At Future Shop, Tassimo flavours like Earl Grey Tea for $6.99 and Chai Tea Lattes for $11.99 are in stock. I like to stock up on the more expensive products like the Chai Tea Lattes, getting 2 for $17.98. The K Cups priced at $12.99 for almost any flavour, so you can mix and max your favourites like Green Mountain Hot Chocolate ($12.99) or Van Houtte French Roast Coffee ($12.95) - get both for $19.46.
At Best Buy, K Cups are Buy 2, get one free so Timothy's Parisian Nights ,Tully's Italian Roast Extra Bold Coffee - 18 K-Cup (KU01363) and Celestial Seasonings Green Tea - 18 K-Cups (KU01352) all for $12.99 each or 3 for only $25.98.
The better deal for K Cups is at Best Buy for sure, unless you are buying both Tassimo and K Cups together, then it would be best to buy at Future Shop.
Spend $20 or more to get free shipping from Future Shop or Best Buy.
Expiry: Unknown