Future Shop: $200 Accent Chairs - Save 50%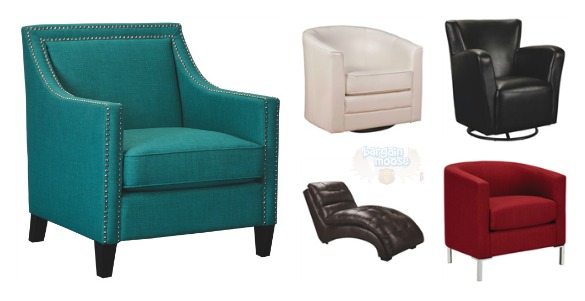 Furniture deals are always precious because furniture is so expensive to begin with. Starting today, Future Shop is offering 50% off select accent chairs, bringing these $400 chairs down to just $199.99 each.
While there are many different colours to choose from, there are only five different styles of chairs. Whichever chair you choose, it will only cost you $199.99, which is 50% off the original price.
The Erica Accent Chair is available in teal, charcoal, natural, or rice paper (red). Erica features a mid-rise back and arms with a double row of metal button accenting. The chair has more of a square shape, with a wooden frame and fabric seat cover. This is one of my favourite styles as it borrows a little old world glamour at a reasonable price.
The Grayson Accent Chair comes in brown, red, or white. Enjoy the 360-degree swivel motion. The polyester cover will be easy to clean and the minimalist profile will not take up much space in your house.
I prefer the Marilyn Accent Chair as it combines some of my favourite characteristics from the Grayson and the Erica. This is also a 360-degree swivel chair, but with a flared back and gorgeous curves. The PU fabric looks like faux leather and should hold up well to kids and pets alike. The chair is available in red, black, or white.
The Durian Polyester Accent Chair is a solid chair with a curved back and seamless arm rests. This chair comes in Aubergine (purple), berry (red), and rice paper (beige). Out of all the chairs, this is the only one available in a purple.
Last but not least, the Daphne Chaise Lounge is a beautiful lounge chair available in brown or white. I have honestly dreamed of having one of these in my house almost all my life, I have just never had the room. Pick up this beauty for just $200 as well.
This is a great sale from Future Shop, and if these sell out, you can find them at Best Buy for the same price as well. The best part of this deal is that these chairs will ship for free (as they cost over $25) if you are in an urban location.
(Expiry: 11th December 2014)