Free Advertising: Free $100 Facebook Coupon Code!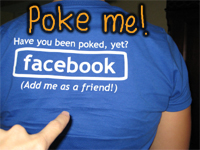 This deal is for the benefit of those of you who run your own business or website. You can claim $100 worth of free Facebook advertising – no strings attached! All you need is a Facebook account to set this up.
Firstly, go to the Visa Business Network application on Facebook, and add the application to your facebook account. Once you have done that, fill in the basic details. They should then email you with a facebook coupon code for $100 free advertising on Facebook! I signed up, and I received the $100 facebook coupons by email within a matter of minutes.
For those of you who don't know what facebook ads are, the $100 credit is for the little adverts you see on the right hand side when you are using Facebook. I'm not sure if any legit sites use them, as all I ever see are those "get rich quick" ads, adverts to let you know how big your IQ is, or diet advice adverts.
Are you a big facebook user?
I started using Facebook about a year ago, I guess I use it quite a lot. It's quite nice to see when friends add new piccies and things. Check out this funny video if you have time, 25 things I hate about Facebook. A few of those really get on my nerves… people who post wayyy too many status updates… it's not twitter!! He also mentions the facebook ads - Hey, wanna meet hot Christian singles near you?!!
Thanks BeFitt.