DisplayFusion: 15% Off Multi-Monitor Management Utility With Exclusive Coupon Code (Expired)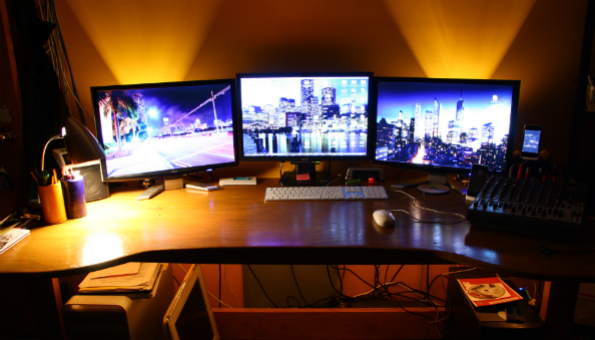 If you have multiple monitors you're going to want to use this coupon to get 15% off Display Fusion!
 Click here to maximize multiple monitors @ DisplayFusion.com now
Coupon Code: dfbargainmoose (expired)
Discount: 15% Off
Expiry: 16th August 2013
There is way too much going on with Display Fusion for me to go over all the options. There are the standard things you'd expect from a multi-monitor management program but there is so much more. Of course you can span title bars and menu bars. There are a few different ways to keep your windows in order. You can do some cool stuff with your desktop background. That's all fairly standard. But you can also have Display Fusion load random images from places like 500px or DeviantART. You can modify those images in-program by adding filters like black and white or sepia. There are even profiles to save your different configurations.
It's so good that our boss here are Bargainmoose, after she used it (and loved it) for a little bit, has graciously let me steal her words to put on this here article.
I downloaded Display Fusion last week on the recommendation of my partner, and I bought the license for use on multiple home computers. I was a bit wary of using this software, as I am quite fussy with what happens on my PC. I'm a bit scared of change! Anyway, I read the features and thought I would give it a try. It wasn't that expensive considering this is a lifetime license for Display Fusion,  and I knew I could just uninstall it if I wasn't happy.

I've mentioned on here a few times that I work with multiple monitors, a 27" and a 24" Dell, so using Display Fusion is actually really good. The first thing I found great was the extended taskbar which flowed over on to my second monitor - there wasn't one there before. It gives a bit of a separation in that the windows that are open on the second monitor will be on the second taskbar - ideal for my working methods. I also really like the little button which is at the top of each window - hit it and the whole window just jumps over to the other screen.

There are many more features which I haven't used yet, such as the ability to have separate screensavers on each monitor, or various types of desktop images... but I'm really happy with Display Fusion so far!
If you really want to know all the features that this great program has to offer, check out their Comparison Page and their Features Page. You'll notice on the comparison that they have a bunch of different licenses from personal use to professional. They even have a steam version or, of course, the FREE version if you so choose. The pro really has a bunch more features for as low as $25 minus the coupon code, so it's a steal.
For more DisplayFusion savings check out our Coupon Codes!
(Image Credit: Chance Reecher)