Dell Canada: 3 Days of Discounts 35% off Today, 30% Tomorrow, 25% Sunday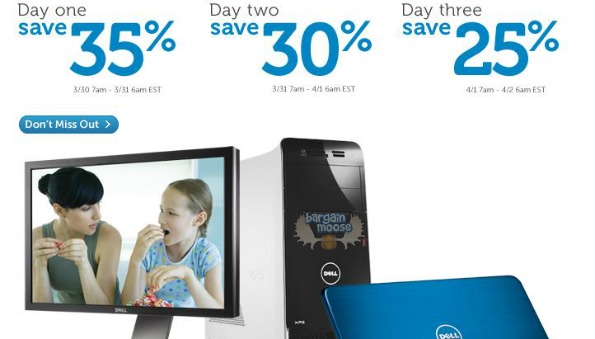 Dell Canada has a decreasing discount sale on staring today.  Today only save 35%on select PC computers, tomorrow save %30 and then Sunday save 25%.  Basically the earlier you shop, the more you will save on a PC computer.  There is no need for a coupon code to get any of these deals.
Today is day 1 of the Dell deals so that means you will save the most by shopping today.  They have 5 different computers to choose from for this first day of deals and all of them are 35% off the regular prices. The sale prices of these computers range from $496.99 up to $916.  We have 2 Dell computers at our house and I would definitely recommend a Dell if you have never used on before. If you wait until tomorrow they deals will drop to 30% and on Sunday they will be 25% off.  Still great deals but this in one of those deals where it actually pays to shop early!   As an added bonus, you will get free shipping on all orders from Dell Canada.
(Expiry: 1st April 2012 for the last day of deals)