Costco Canada: $30 Off Ooma Telo 2 VoIP Home Phone Service Bundle (+ 3 FREE Premier Service Months - $60 Value)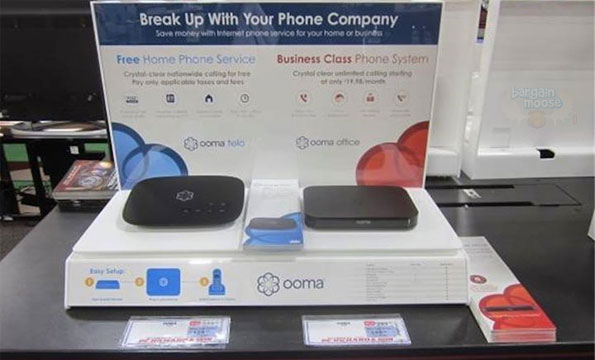 Are you still using a landline phone to make all of your phone calls? Get Ooma instead. It will allow you to make free Canadian and long distance calls just by using your internet. Right now at Costco, the Ooma Telo 2 VoIP home phone service bundle is on sale for 99.99 (reg. $129.99) and also comes with a bonus offer of 3 free months of premier service, which is a $59.97 value.
To call anywhere in Canada or internationally, all you need to do is plug the Ooma, connect it to your internet and use a regular phone. There's no need for a PC or even a headset as everything is done via your internet connection.
What I find cool about the Ooma is that even if your internet happens to crash, then all calls will be re-directed onto your cell phone.
As I already mentioned, this Costco deal includes 3 free months of Premier service but after that, you would need to subscribe to the service and the costs depend on the features that you want. At its core, the Ooma Premier is $9.99 per month (or $119.99 per year) and you have the option of tacking on additional features like: enhanced voicemail, number porting, extended warranty, directory assistance and a couple of others.
Out of 21 reviews on Costco's site, the Ooma scored an impressive 4.1/5 stars with reviews like this one:
I have been on Netalk and tried Magic Jack. No way they come close to OOMA. Cost is more but well spent. Setup was easy. The others dont have customer service. OOMA is great.
Alternatively for those of you with a business, the Ooma Office VoIP business phone service is $50 off. Originally priced at $249.99, it's now $199.99 and includes 3 Linx wireless phone jacks, conference calling and get ready for this... a virtual receptionist. Plans for this one start at $19.98 per month and you have the option of transferring your current number.
I'm sure some of you would prefer to pick up an electronic like this in-stores but there's no way of checking if your local Costco carries the Ooma. On the bright side, if you order online, then it will be shipped straight to your door for free within 4-10 business days, with every chance of it being even quicker than that.
(Expiry: 30th April 2015)