Canadian Deals: Samsung Laser Printer for only $49.99 @ Future Shop!
I have been keeping an eye on the price of this Samsung Printer, as it's a decent price and a good brand. It has just dropped down to $49.99 @ FutureShop Canada!
Where: online @ FutureShop.ca
What:

Samsung Monochrome Laser Printer (ML-2510)

Price: $49.99
Expires: 18th September, 2008 (Well, it was supposed to finish, still seems to be active - Sept 29th)
If you recall my free shipping thread, you'll remember that Future Shop does free shipping with a collect at store option.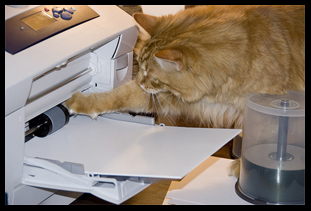 I googled for a printer review on this particular model, there is quite a good brief on Cnet. I'll quote an interesting paragraph:
Value: In view of its very inexpensive price, this laser printer has great features for the money.
If you are using an inkjet printer, I would definitely consider taking the plunge and changing over to the laser printers. They are so much more efficient and cheaper to run.
I actually have a HP printer, and it does a great job. They obviously do cost you a little more to start with, but the toner on a laser printer lasts you so much longer.
- Anna