Best Buy Digital Dollars: Up To $100 Discount!
(EXPIRED)
Best Buy Canada has just released a few juicy coupon codes! You can get up to $100 discount if you apply these Best Buy promo codes at the checkout.
You can use these Best Buy digital dollars either in-store or online.
If you'd prefer to shop online, here are the details: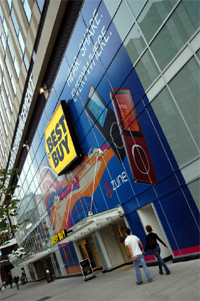 Coupon code RZ100OFF167782244189 for $100 discount on a purchase of $1000+
Coupon code RZ20OFF0167763611217 for $25 discount on a purchase of $350 – $999
Coupon code RZ10OFF0167744978246 for $10 discount on a purchase of $100 - $349
With these extra Best Buy digital dollars, you should be able to save yourself a few extra dollars on your electrical items!
Thanks once again to Ian Muttoo for the great pic.