Bargainmoose Contest: NCIX Christmas Gifts – Win $$$ in NCIX.ca Gift Cards! (Day 6: $250 Prize) CLOSED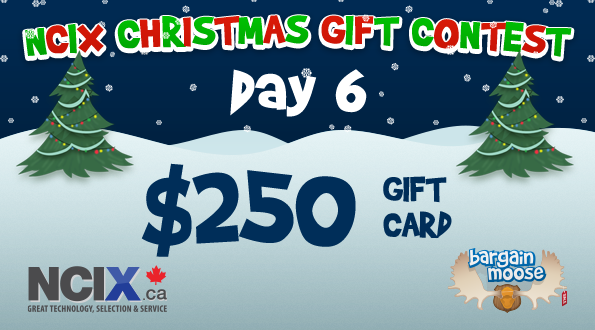 *** Contest now closed, winner was Mooser Steve! ***
The days are really flying by… it's only eight days to Christmas… and nine days to the official start of the Boxing Day sales on the 26th December 2013. In the meantime, we're keeping you entertained with some sweet prizes from NCIX, who are giving us over a THOUSAND dollars in gift cards to spread to the lucky Moosers. Each day, the NCIX prizes have been increasing in value. Today, on day six, we've got a $250 NCIX gift card to give away!  If you would like to enter this contest, please read below and try your chances.
It might be a little late to be ordering gifts from NCIX if you wanted them in time for Christmas, but that doesn't mean that there aren't good deals to take advantage of. In the 12 days to boxing day event, this is the main item on offer today:
And some more info about NCIX for your reference:
Now, on to day 6 of the NCIX Christmas gift contest!
Prize today: $250 NCIX gift card
How to enter day 6 of the NCIX contest:
Answer this question in the comments below:
Which NCIX PC best suits your needs?
Have a browse of the site and choose an item that you think would be good! Leave the link and the item price in your comment.
Bonus contest entries:
Leave a link to this NCIX contest on Twitter, make sure you put @bargainmoose in your tweet
Re-pin this contest on to your Pinterest, and follow us there too
Post a link to our NCIX contest on your Facebook wall and share with your friends, make sure you like Bargainmoose
Come back!
Tomorrow for the final day, the NCIX prize value will be increasing again – come back and join us!
Rules:
Canadian entrants only. One type of entry per household. NCIX prizes limited to one per household. Ends 17th December 2013, 11.59PM EST. No purchase necessary. Odds of winning depend on the number of eligible entries received. Duplicate, incomplete or illegible entries will be disqualified.