Amope Pedicure Holiday Gift Set Value Pack Only $43 & Free Shipping @ Amazon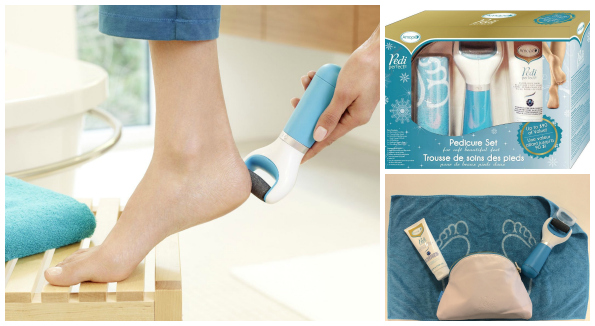 The Amope Pedi Perfect Pedicure Electronic Foot File is super popular right now for slogging off that dead winter skin and callous build-up. You should check out the individual product: it has over 400 reviews with a 4.3/5 star rating! It also costs $39.99 right now, so I was delighted to find the Amope Pedicure Holiday Gift Set Value Pack for only a few dollars more. Originally $53.99, the bundle is on sale for $42.94 with free shipping. The original price doesn't really capture the beauty of this deal as it has up to a $90 dollar retail value if you purchased the contents separately.
This set includes the Amope Pedi Perfect Pedicure Electronic Foot File with one course roller head, one extra rich skin recovery foot cream (120ml), one pedicure beauty bag, and one microfiber towel. The foot file alone costs $39.99 @ Amazon or $44.97 @ Walmart when purchased separately, so this bundle is well worth the price. I found the same Amope Holiday Gift Set for $64.98 @ Well.ca and $69.09 @ Alliance Plus Pharmacy Canada.
This is like the best foot filing system out there as you can see by over 400 reviews on the individual product's page! The Amope has a course roller head that rotates via battery power to remove callouses and dry skin. The head can be replaced when it is worn out so your purchase will go even farther.
This kit has everything you need to restore your feet to health. The electronic foot file comes with a course roller head. After filing, you need to administer moisturizer: this is where the skin recovery foot cream comes in. You need a towel to stick under your feet while filing and this kit comes with one. Then, the included beauty bag will store everything away in one place when not in use. One reviewer at Walmart said:
I remember having calloused feet all my life. Sometimes it would really bad where my feet would crack so bad they would bleed. This product makes removing all that calloused skin so easy and quick, and that helps keep the cracks to a bare minimum.
Cracked feet are so painful and it can become a serious medical issue as you age. Return your feet to their former youthful selves with this wonderful Amope Pedicure Gift set. The entire gift set is cheaper at Amazon then just the file is at Walmart!
(Expiry: Unknown)