Amazon.ca: EVGA GeForce GTX 750 Ti Superclocked Graphics Card Was $186 | Now $145 (EXPIRED)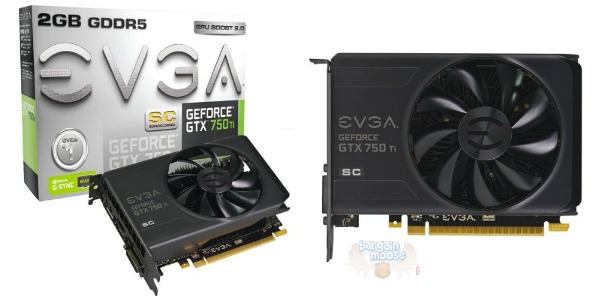 I am going totally out of my element here to bring you this sweet deal on a EVGA GeForce GTX 750 Ti Superclocked with G-SYNC Support 2GB GDDR5 128 Bit, Dual-Link, DVI-I, HDMI, DP 1.2 Graphics Card (02G-P4-3753-KR). Originally $1865.99, this sweet graphics card is on sale for $144.98 right now at Amazon Canada.
I do not know much about graphics cards but I do know a thing or two about price comparing. First of all, EVGA makes plenty of GeForce graphics cards that all look the same if you were to just go by the picture. You need to compare the item model number to ensure that you are making an apt price comparison. Here is what model number 02G-P4-3753-KR GeForce GTX 750 Ti graphic cards are retailing for at other stores:
$189.99 + $11.99 shipping @ Newegg.ca
$174.99 @ NCIX.com
$179.99 @ Canada Computers
Now, there is a $20 mail-in-rebate for each of the three above stores, but even after the rebate - Amazon Canada still has the best price. This is for two reasons. First, you are charged tax on the full purchase price at any stores that give a mail-in-rebate. Second, even with an extra $20 off, the lowest price of the three stores is still $10 higher than Amazon Canada's price.
This card is small and powerful. It delivers on gamer's expectations with full 1080 HD graphics. The card does not require a 6-pin power connector and, for those curious, it should fit fine in an Alienware X51 or a XPS 8700 as long as you have enough power. Most reviews think this little card is a sweet unit:
Low noise, low heat output. and its pretty good for gaming as long as you dont want everything on ULTRA. works great for WOT and Skyrim. plus it fits well in small m-itx cases.
and...
Awesome little card! I was concerned about the noise complaints that a lot of people seem to have, but mine is really quiet, even though the fan is supposed to be spinning at 40% of full power. Definitely recommended for budget gaming rigs!
I did a bit of homework and this is the best price that Amazon Canada has ever had this graphics card. There are currently nine left in stock, and I am hoping once Amazon goes out of stock that they will still allow orders at this price.
Receive free shipping on all orders of $25 or more.
(Expiry: Unknown)