$90 Off Sennheiser RS126 II - Now $89.99 @ Best Buy & Future Shop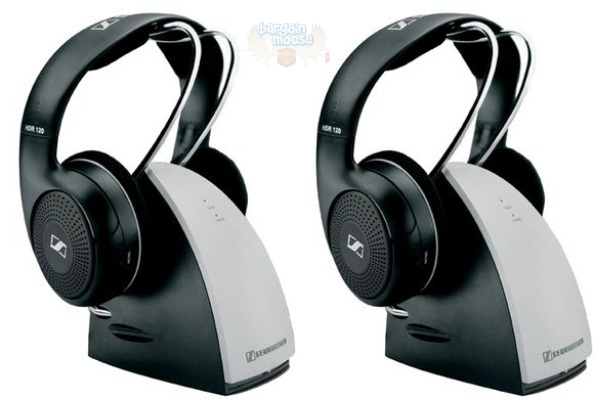 Best Buy and Future Shop are selling the Sennheiser RS 126 II Wireless On-Ear Headphones for just $89.99, saving you $90 (50%) off the original price for Boxing Week.
Its rather funny looking at Future Shop and Best Buy because each quotes a different discount. Best Buy says the headset is $90 off, and Future Shop says the headset is $50 off. I think that Best Buy might be right in this instance as my price comparisons show that this headset goes for quite the price at most retailers:
$179.99 @ Dell Canada
$199.99 @ Staples Canada
$199.99 @ The Source (older version)
$129.99 @ London Drugs (older version)
The only place I could find that matched the twins' price was Amazon Canada at $89.99 on a lightning deal. As Best Buy and Future Shop have this deal on until the 28th, I figured this was the better place to find the headset.
I have been looking for a wireless headset for some time. While I love my Denon headset, sometimes wires are terribly inconvenient and I just want to listen without tangling myself up in a cord. I decided on Sennheiser a while ago because they make such a large variety of wireless headsets to suit all budgets. The Sennheiser RS126 II is the second edition (note that) of this headset. It features an open, supra-aural wireless RF headphone system giving detailed sound reproduction and good strong base.
The wireless headset can communicate with your MP3 player or phone up to 100 meters. The headphones come with a transmitter with metal cradle for storing and recharging the headphones. Rechargeable AAA NiMH batteries are also included. The headphones are also very lightweight making them comfortable to wear for long durations.
The main negative thing I have heard is that there is static. However, with four channels you should be able to tune that out. It could also be due to interference if you are using many Bluetooth products in your house. This reviewer said:
If you want to get rid of the burden of cables this option is optimal. Sound quality is great and headphones are very comfortable. I use them in the office to listen to music, not to wear them while walking around the house. The manufacturer's stated usable range is about right, so watching TV or listening to music in the same room is not a problem.
Overall, I think these are a very good buy for the money you are spending. Receive free shipping on orders of $25 or more.
(Expiry: 28th December 2014)