75% Off Aukey 12000mAh Portable Power Bank Only $20 & No Tax @ Amazon.ca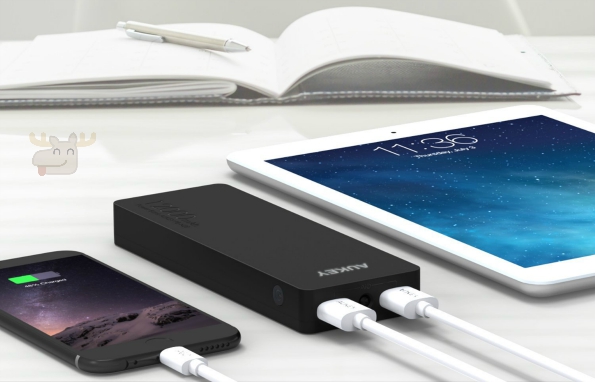 Today's deal of the day at Amazon Canada is this 12000mAh Portable External battery for charging tablets, smartphones, and more. This battery originally retailed for $79.99, but is now on sale for just $19.99 all inclusive (no taxes are charged). Receive free shipping on orders of $25 or more at Amazon Canada or free shipping on any order with Amazon Prime.
I have only seen one battery of this size for this price before and it was a no-name battery, not a reliable brand name like Aukey. Just to come, the Anker 12000 mAh portable battery (same size) currently retails for $45.99 and the RavPower battery of the same approximate size retails for $35.99 (both at Amazon). Essentially, you are looking at a fantastic deal - today only - to charge your electronics. With 3.4A output, you can simultaneously charge multiple electronics.
I LOVE power bars and I think I need two! I am always running out of power on mine because I charge so many things on it. First: I charge my iPhone 5. Second, I charge an external wireless speaker I have. Just yesterday, I received my Boomphones Phantom Headphones that charge via microUSB to USB. While I charge it mainly off my computer, this headset is yet another thing to charge off my battery when I am on the go. I either need a larger battery or a second battery!
These batteries are pretty awesome. I recommend external batteries to everyone who does not have one. I even will buy friends external batteries - which they have never considered before - and then receive a shower of thank yous after they find out how much they actually use the battery. Therefore, these make awesome Christmas presents for anyone that uses a mobile device. An external battery is the answer to the question: "what do I get for the person who has everything?"  I could so handle finding another one of these under my tree this year.
This battery deal is only around today. Do make sure you are buying the battery from Amazon: "Sold by Aukey Direct and Fulfilled by Amazon" as, if the battery sells out, Amazon will just bump up a third-party sellers posting.
(Expiry: 26th August 2015)