$75 for Dr. Dre urBeats @ Best Buy (Save $25)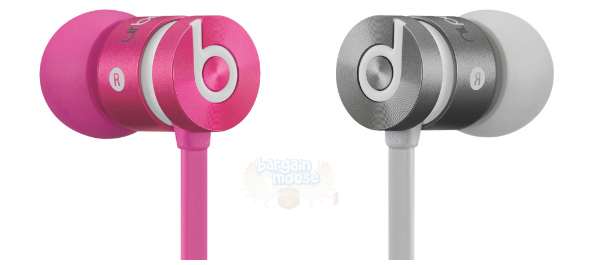 There are still some really hot electronic deals to find online right now. I ran across an extra discount on the pink or grey Beats by Dr. Dre urBeats In-Ear Headphones at Best Best Canada. While all other colours are currently on sale for $89.99 (were $99.99), these two colours are discounted to $74.99.
Future Shop mirrors this sale - the pink and the grey are on sale for $74.99 whereas all other colours cost $89.99 (was $99.99). Thus, if best Buy runs out of stock you can try to purchase from Future Shop instead.
There is a limit of three grey headsets per household. The grey is listed as limited quantity available, and there are currently only 10 of the pink in stock. Dr. Dre beats are extremely popular both for earbuds and over the ear headsets, so I can see why these are selling out quickly. I did some price comparing, and while I found some extended Cyber Monday sales close to these prices, nothing matched the pricing of the pink and grey headsets.
$99.95 @ Walmart Canada
$99.95 @ Apple Canada
$89.99 @ Future Shop & Best Buy (other colours)
$79.99 @ The Source Canada
The best competitor I could find was The Source, and even they were still $5 higher, which translates over to 5% higher on an item with a retail value of $100.
The headphones have really got mixed reviews, which is odd because some colours get a passing grade while others are highly criticized. Honestly, people tend to criticize anything these days. I found a review on the pink ones that they thought the pink colour was too fake. That really says nothing about the sound quality - it is just that someone did not like the shade of pink!
Because of the bias of personal reviews, I checked out Headphones reviewed to see what they thought:
The Urbeats by Dr. Dre is better than 94% of the headphones we tested.

It is better than 95% of the headphones we have tested under $100.

It is better than 94% of the in-ear headphones we have tested.
Overall, the headphones received an 8.9 out of 10 score. That is pretty awesome. Check out the rest of their professional review above if you need more information before purchasing.
Receive free shipping on orders of $25 or more at Best Buy.
(Expiry: 4th December 2014)