Tim Hortons: Small Dark Roast Coffee for $1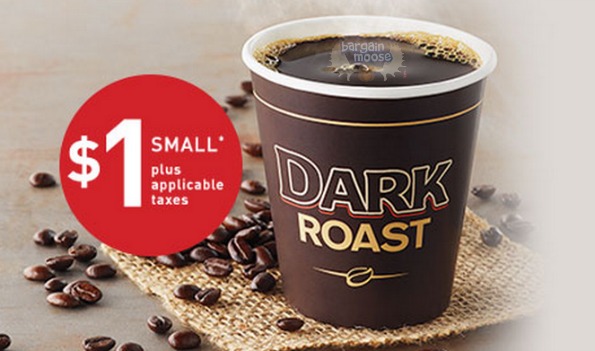 Starting tomorrow, Tim Hortons Canada is making it even more affordable to start your morning off the right way with a small coffee deal.  Head to your local Tim Hortons to get their new dark roast coffee for just $1 plus tax for a limited time only.
Every location across Canada will have this $1 deal for the new dark roast coffee in size small until September 29th.  It is pretty good considering you can't get much for just a dollar these days.
I know a lot of people may say that they prefer a huge large cup of coffee versus a small size, but the sizes of the cups are pretty deceiving.  The small is hardly any smaller than their medium size.
Here is how they describe the new dark roast coffee:
The new dark roast coffee is made from a premium blend of 100% Arabica beans, expertly roasted with care. Get into the dark with its rich, delicious taste and full flavour.
Now I am not an avid coffee drinker as I really prefer tea, but my husband is.  If he doesn't get his coffee fix a few times a day he turns into a bear! He has a Tim Hortons near his work and heads there multiple times a week to get his coffee fix sometimes a couple of times a day. Every time he buys one, it can really add up so getting his coffee for just $1, even for a few days is a nice little savings for our pockets. This is also a great price to be a hero at work and grab some great tasting coffee that is affordable.
While you are there, you can grab something from their food menu as well.  Although Tim Hortons has amazing doughnuts, they have a full menu with great selections for breakfast, lunch and snacks to fill your appetite.  One of my favourites is their grilled cheese panini sandwiches for lunch.  It sounds basic because it's a grilled cheese but it is absolutely delicious.
(Expiry: 29th September 2014)