Starbucks Canada: Shaken Iced Teas 50% Off June 26, 2-5pm Only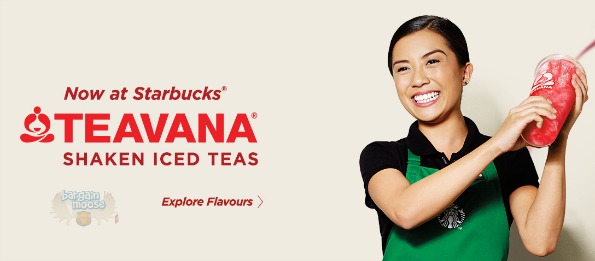 If you are looking to cool off in this hot summer weather we have been having, then you will want to head into your local Starbucks tomorrow.  Tomorrow June 26th, from 2-5pm only, you will be able to save 50% on the new Shaken Iced Teas at Starbucks stores across Canada.
You will be able to enjoy any of the shaken iced tea flavours for half of the regular price tomorrow afternoon from 2pm-5pm.  The size that you will get with this deal is the Grande which is 16 fl.oz.
There are five different flavours to choose from. You can get the Blackberry Mojito Tea Lemonade, Peach Green Tea Lemonade, Passion Tango Tea, Green Tea, and Black Tea lemonade. I drink green tea every day so the new peach green tea lemonade sticks out for me to try tomorrow. The blackberry also looks pretty good so I may pick up one for myself and my husband so I can try both flavours!
As an added bonus, it looks like you can get as many as you would like half off tomorrow.  It is the perfect time to head in and be the office hero by buying a bunch of the iced teas for your coworkers and save 50% on each and every one of them.
If you are looking for more of a healthier option with these iced teas, the black tea lemonade is just 200 calories for the Tall size which means it is slightly more for the Grande that is on sale. It is your best option for something with a lower calorie content. If you are just having one, that is not that bad considering how many calories can be in some pops, shakes and other iced teas.
(Valid June 26th 2-5pm only)