Keurig Canada: BOGO Free On Select K-Cups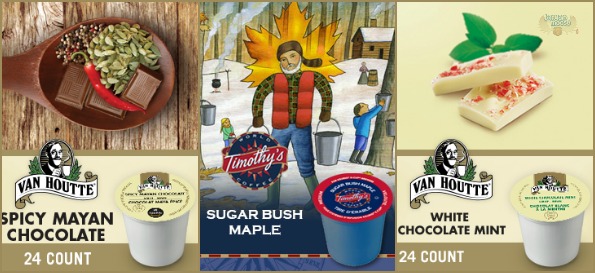 Keurig has a few select K-cups on sale with a buy one, get one free deal. Considering these boxes of K-cups are $17.45 each, your savings could be enormous.
Like I said, this sale is on select boxes of K-cups only, and I hope you have your sweet tooth ready, as these flavours are on the sugary side! Buy one, get one free on:
Timothy's Sugar Bush Maple - if I drank coffee, this is the one I would drink. I love maple and the way this one is described makes me salivate. Reviewers like this flavour too, giving it a high overall rating.
Van Houtte Spicy Mayan Chocolate - this one sounds amazing too, with the spicy taste of cinnamon with chocolate
 Van Houtte White Chocolate Mint coffee - chocolate and mint, need I say more?
When like a good blogger, I read the fine print, in some places it says the end date for this deal is July 31st, but in another it said May 31st. I tested it and at checkout, it took the discount and I only had to pay for one pack of K-cups. You can't combine this with any other offer, except that once you spend $45, you'll get free shipping. If I were you, I'd stock up on these decadent flavours and ensure that you have something sweet in your pantry that will have you saving the calories on eating actual chocolate.
If you need an idea for a gift basket or for a teacher gift, this makes an excellent gift. You might not buy these flavours for yourself, thinking you only drink strong, traditional black coffee, but if you got it as a gift, you might try it and enjoy it, and wish you had been buying it for yourself all these years.
(Expiry: 31st July 2014)