Coffees of Hawaii (US) Coupon: 20% Off + $4.50 Shipping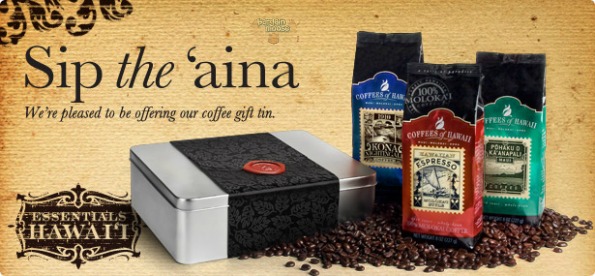 For the coffee addicts among us, you probably already know that September 29th is National Coffee Day (at least it is in the USA). Coffees of Hawaii has a special coupon code to celebrate our caffeine-altered state with 20% off and $4.50 shipping to Canada.
Click here to shop fine Hawaii coffee @ Coffees of Hawaii now
Coupon Code: COFFEEDAY20
Discount: 20% off + $4.50 shipping
Expiry: 30th September 2013
That $4.50 is a flat rate shipping cost to Canada, so you can load up on your favourite Hilo, Ka'u, Kona, Maui beans and more with one low rate. Shipping can be as high as $32 regularly so you are saving a bundle on shipping.
You can buy your beans or grind in 2oz, 8oz, 2 lb, or 5lb. You also have a choice of different grinds:
Whole Bean
Course Grind
Regular Grind
Drip Grind
Espresso Grind
If you know a coffee lover, there are some nice gift options on the website. I would pick out the Three Island Gift Tin (pictured above). In it is 1.5 lbs of coffee from three different islands:
From Moloka'i, a bag of Hawaiian Espresso Moloka'i Style
From Kona, 100% Kona Nightingale
From Maui, 100% Pōhaku O Kā'anapali
You can choose either whole bean or regular grind for this set. The Three island Gift Tin costs $47.95, but after coupon it comes down to $38.36 with $4.50 shipping. It makes an excellent and unique gift for the coffee drinker you know.
All prices are in USD. Canadian customers could incur duty charges (we don't know). Coffees of Hawaii is committed to supporting the revitalization of their culture and ecology, so they donate 1% of all revenues to the cause! If you love your beans check out this company.