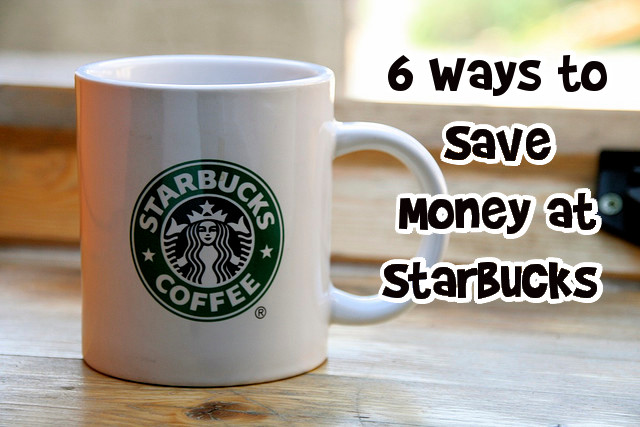 For many, a trip to Starbucks in the morning is an essential aspect to the start the work day off right.  For others, it is a treat once a week, and for others, it is a way to connect with friends and acquaintances during coffee breaks or on the weekends.  Basically, Starbucks is a large part of our lives.
Starbucks coffee is great, however, the prices obviously aren't if you drink a latte daily.  A cup of coffee is $2 a day and a latte or a specialty coffee can be at least $3.50 to $4 a day.  $500 to $1000 a year on coffee isn't my cup of tea (no pun intended) personally, but I do understand the importance of Starbucks coffee to start the day.
If you love Starbucks but you don't love the prices at Starbucks (and your wallet doesn't like the prices at Starbucks), here are six ways to save money on your next hit of coffee or tea when you head to Starbucks.
Sign up for a Starbucks Rewards/ Gift Card
According to Popsugar, there are numerous benefits to signing up and registering for a Starbucks rewards card.  Depending on how often you use the card, you get benefits including special email offers, a free drink or reward after 12 purchases, and if you use it 30 times in 12 months (which is very easy to do, I'm sure) you can get a personalized gold card.  If you don't like to have so many cards in your wallet, you can have it attached to your phone (they can scan your the "rewards card" on your phone and you're good to go).
Go to Starbucks on Your Birthday
Another added perk for signing up for a Starbucks Rewards card (it's free to register) is that you can get a free drink on your birthday.  You just have to redeem the free gift within 30 days of your birthday.
Order a Hacked Specialty Drink
For the iced latte lovers out there, one way to save big on your favourite drink is to ask for a double espresso on ice (in Starbucks lingo it is called a "doppio"), and then head to the station to add the milk.  This on average saves over $1.50 if you're getting the grand doppio with milk (aka grand iced latte).  If you want to save money on a hot Starbucks latte, ask for a cafe misto instead of a hot latte and you'll save almost a dollar with each drink.  A misto is just regular coffee with steamed milk and a hot latte is two espresso shots with milk.  Tastes similar but the cost is different.  For some more fantastic Starbucks specialty drinks hacks including a chai tea latte hack and an iced tea hack, head to the post on 5 Ways to Save Money at Starbucks from Yahoo Finance.
Bring Your Own Re-usable Cup
If you bring your own re-usable cup when you visit Starbucks, you get $0.10 off your Starbucks order.  Not only will you be saving money you'll also be sparing the environment from added garbage accumulating in the landfill.  Sure, $0.10 isn't a lot but it does add up over time.  Over a year it is just $24 in savings but priceless savings for the environment.
Get a Short Instead of a Tall
Unbeknownst to many, there is a drink size/ cup that is even smaller than the tall.  The short costs less than the tall Starbucks drinks (obviously).  The great caveat is that you still get the same amount of caffeine as you would if you order the tall if you order an espresso drink (one shot of espresso).  Check out the Foodnetwork.ca post on how to save money at Starbucks for more detail.
Look for Coupons in the Mail
Periodically (I think once to twice a year) I get some cute little coupons in the mail (they are small card sized and don't look like your typical coupon) for discounts on Starbucks drinks.  You can get a hot or iced beverage for $3 or a breakfast sandwich and a grande sized hot or iced brewed coffee for $4.  A pretty decent deal if you ask me!
Don't forget to watch Bargainmoose for all the latest deals at Starbucks!
Bargainmoosers, have you tried these?  Do you have any other tried-and-tested ways to save money at Starbucks?
Photo credit: Rudolph Schuba