Women's Cascade Jacket Was $158 | Now $64 + Free Shipping @ Roxy.com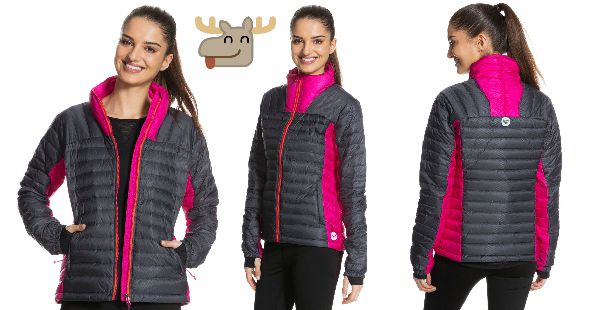 Before you know it, fall and winter will be here. It is seriously time to start shopping for great discounts on winter apparel so you're not stuck paying full price at the last minute. Roxy.com has this Cascade Jacket jacket at an extra affordable price right now when you use an additional coupon code. The Cascade Jacket was originally $158 but is on sale for $79.99. There is also a back to school coupon code for 20% off which brings the price to an even lower $63.99. Roxy also offers free international shipping, and all taxes and duties are applied at the check out process.
Click here to shop @ Roxy.com now
Coupon code: GET20
Discount: 20% off when you spend $75 on sale items
Expiry: 31st August 2015
This quilted jacket looks comfortable, stylish and affordable right now! Roxy is known for having high quality items, and when it comes to winter jackets I don't want anything less than high quality that is for sure. This Cascade Jacket came with an original price tag of $158, but after you use this coupon code you can call the jacket yours for just $63.99 plus tax.
This Cascade Jacket is a great combination of graphite grey and magenta. I love the look of it, and I don't normally like quilted jackets. While it boasts a 650 gram down fill, it still appears to be slim and light weight. Nothing is worse than an overly bulky winter jacket, especially when you are trying to look sexy, right? The hand pockets have zippers so you won't drop anything to be lost forever in the deep Canadian snow. It even has reflective logo details on the front and back. Wanna hear the best part? This Cascade Jacket from Roxy.com is machine washable!
I am in need of a new jacket this year. It seems I buy the kiddo one yearly and forget to include myself in that splurge. Who else is guilty of that? You won't feel so bad about getting a new jacket for yourself if you are only spending this amount though. Roxy.com offers free international shipping, so if you're not quite interested in this jacket then you can also take a look at their other sale items to get a killer deal elsewhere. After duties and everything are included, the total price comes out to an estimated $85.33, which is still much better than the original price of $158!
You can check out all of the Roxy.com coupon codes and discounts in our Bargainmoose forum.
(Expiry: Unknown)