Winter Sale: Up to 50% off Select Items, Extra 10% Off Sale Items, Free GWP, Free Samples & More @ L'Occitane Canada!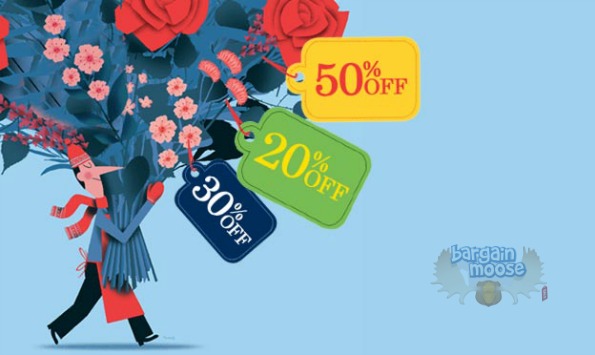 For a limited time you can get select products up to 50% off at L'Occitane en Provence. You can also stack several different coupon codes to receive a free shower gel, a discounted lotion kit and an extra 10% off sale items. Shipping is also free if you spend $49.
Click here to shop @ L'Occitane en Provence Now
Coupon Code: SOAPS
Discount: Buy any 2 Bonne Merre Shower Gels and get a 3rd Free
Expires: Unknown
Coupon Code: HANDS
Discount: Receive a "From Provence To Your Hands" Lotion Set for only $12 with $45 purchase
Expires: Unknown
Coupon Code: VIP10
Discount: Receive an extra 10% off sale items
Expires: Unknown
I would start by adding 3 Bonne Mere Shower Gels to my bag. If you buy 2 you can receive the 3rd free with the coupon code. These shower gels are $15 per bottle or normally $45 for 3 but you get them for $30 for 3 shower gels. The peach and the lemon scents both have happy reviewers. For me I would make sure one with the honey scent lands in my cart. That sounds luscious for a shower gel.
I noticed a product I like quite a lot, the Angelica Iris Sublime Beauty Cream in Medium. It is also available in a light shade if that matches your skin tone better. These BB creams are normally $42 but now are only $25.20. I love BB creams and this one in particular has a nice fresh scent without clogging up my pores. This cream hydrates and covers up redness and other skin imperfections. It also provides a 30 SPF sun protection. I really like when face products include an SPF as it is so important to wear sunscreen even in the wintertime. This BB cream also always leaves my skin feeling very soft to the touch.
Now that you have added a few items, your bag is probably at the $45 minimum. Add the coupon code and you will receive a free From Provence to Your Hands Kit. These are the perfect size lotions to throw in your purse. The kit includes 6 10ml lotions in the following scents.
Almond
Cherry Blossom
Shea
Peony
Rose
Verbena
Free shipping at L'Occitane is only available if you hit a $49 minimum. That should be simple to do if you are aiming for that lotion kit.
Here is an example of my cart. If you experiment around with these different stacking codes you should be able to score some major discounts. In my cart I have $111 worth of products for only $64.68 plus free shipping. That is a great score for this brand!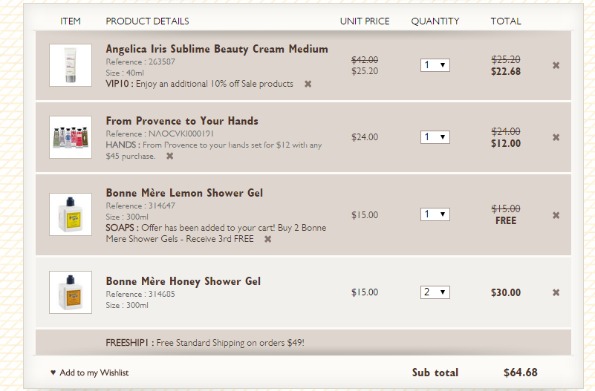 Lastly, do not forget to add a few free samples to your bag. With every online order, L'Occitane allows you to add up to 3 free samples. It is a great way to try new products with no risk. Free holiday gift-wrap is also still available if you missed anyone you needed to send a gift. They might just forgive you for being late with this fantastic gift.
Bargainmoosers what is your favourite lotion scent you cannot wait for, out of the kit?
(Expiry: Unknown)